Everlasting Flowers- Some insights and how to make them last.
Everlasting, dried, preserved, forever flowers whatever you want to call them, are ever so popular and super trendy right now! Dried flowers were all the rage back in the 70's. Funny how fashion and trend's repeat's its self over time. Well I for one am glad that these beautiful flowers are trending again. Not only do they look stunning but they last and last (with the proper care that is).
The way dried flowers are being presented now is a modern version of how they looked few decades ago. Which is all the more reason to invest in one of these beauties. Modern, creative, long lasting and with a flair of design all in one beautiful arrangement.
In this
blog
I'll give you some tips on how to care for your everlasting arrangement last and some insights into how these beautiful flowers are made and preserved.
The preservation process begins by firstly growing the flowers, then harvesting them.
The best and the freshest blooms,
are selected for the ethanol process which bleaches the blooms allowing all the natural colour to be stripped to then allow for the dye process which is why preserved flowers come in all sorts of colours ,some natural some not. Then the glycerine is applied and this is what preserves them and allows them to last for long periods of time. Find out more here
https://www.britannica.com/plant/everlasting-plant
I love designing with forever flowers because it allows for a different level of creativity. To create a beautiful arrangement from such unusual materials is challenging but that's what makes the whole process fun.
Why buy Everlasting flowers?
Ok, granted, everlasting flowers are expensive but in the long run they are value for money and such a great investment because they will last a lot longer then freshly cut flowers, require less care then a house plant and who wouldn't want the latest, coolest thing to come out of the floristry world in their house!
Order now
to impress a friend or to enjoy in your home.
How to care for your Everlasting Arrangement, make them last for as long as possible.
-Do not wet your arrangement.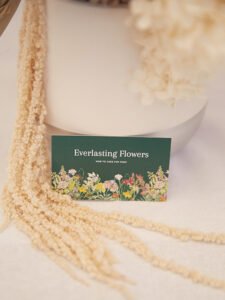 -Keep away from damp places.
-Avoid placing in direct sunlight.
-Do not water(This may be obvious to some but it's only natural to want to add water when you receive flowers).
-Occasionally dust them to keep clean,
Check out Florium Creation's Everlasting range
Everlasting Flowers
and don't forget I can make them to your requirements, almost any colours and sizes.